Oceana County is home to some of Michigan's best outdoor recreational opportunities. Here on our shores, along our streams, and in our forests, you'll find iconic attractions, miles of pristine trails, and excellent camping spots.
Attractions
Silver Lake Sand Dunes State Park
The world famous Silver Lake Sand Dunes are part of Michigan's state park system and includes 2,000 acres of rolling dunes, of which 450 acres are dedicated to ORV use. To learn more about enjoying the dunes by ORV or by foot, visit Michigan's Department of Natural Resources (DNR) website. You'll find information on Michigan's ORV licenses and trail permits, vehicle operator rules, and the parking lot voucher system there as well.
You can also visit Think Dunes, the Silver Lake Area Visitors Bureau, for more information on sand dune recreational opportunities and other fun attractions in and around the dunes.
Little Point Sable Lighthouse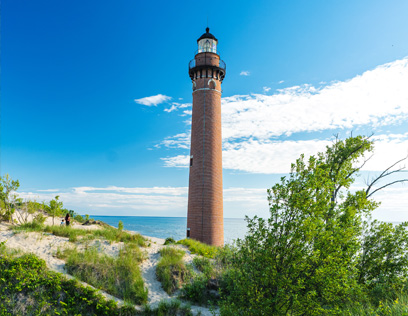 Built in 1874, the iconic Little Point Sable Lighthouse stands proudly on the shore of Lake Michigan within the Silver Lake Sand Dunes State Park. The historic lighthouse, managed by the Sable Points Lighthouse Keepers Association is easily accessible year-around with a paved walkway and offers educational tours by appointment during the summer season. Learn more at the Little Point Sable Lighthouse website.
Biking & Hiking Trails
William Field Memorial Hart-Montague Trail State Park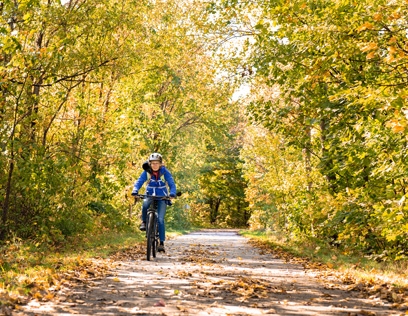 One of the most unique state parks in all of Michigan, the Willian Field Memorial Hart-Montague Trail, is a linear paved 22-mile trail that winds through a large portion of Oceana County and into neighboring Muskegon County. Learn more about the Hart-Montague Trail on the Michigan Department of Natural Resources (DNR) website.
Pentwater Pathways
Maintained by the Oceana County Cross Country Ski Association, Pentwater Pathways features five woodland loops each with a varying degree of difficulty for hiking, mountain biking, and cross-country skiing. Learn more about the trails and view a map.
Camping
Oceana County is a prime spot for camping in West Michigan and offers a variety of options from rustic tent camping to full hook up recreational vehicle (RV) camping. One of our own county parks, Black Lake County Park, even offers camping on its 100 acre parcel with 14 campsites, boating access, great fishing, hiking trail, and more.
There are also two Oceana County campgrounds that are maintained by local municipalities. These are John Gurney Park located on Hart Lake and managed by the City of Hart, and Claybanks Township Park along Lake Michigan in the southwest part of the county. Inquiries and reservations should be directed to the individual municipalities.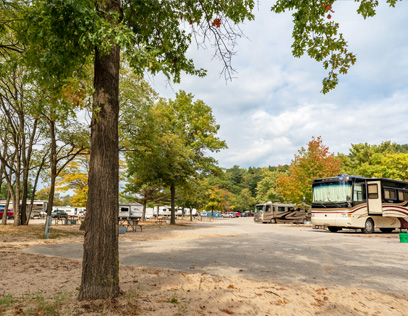 In addition to the campgrounds run by state and local entities, there are also numerous private campgrounds around Oceana County. You can search for your preferred facilities using the links below.